TCP Hardware Black Spike Lug Nuts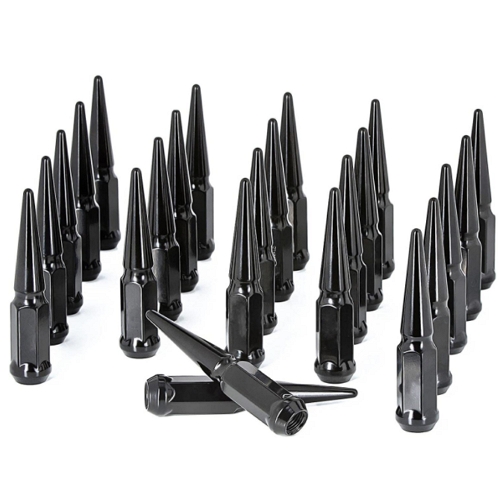 This is a set of 24 stainless steel black spike lug nuts that are shipped with a special installation tool (lug nut key) that helps install them. Note, that this product fits only the wheels that feature exposed M14 mm x 1.5 lug nuts with a conical 60-degree seat. This is a set of true spiked lug nuts that will fit Chevy Silverado, Ford Expedition, and many other vehicles.
Material
Steel
Style
Closed-end
Drive system
Bulge acorn
Recommended torque range
50-70 ft/lbs
Thread pitch
m 14 x 1.5
Finish
Black E-coated
Design
Closed-end
Safety
Anti-cracking-off
Total length
4.4''
What's included
24 lug nuts;
1 lug nut key

Customer Reviews
| | |
| --- | --- |
| Construction | ★ ★ ★ ★ ★ |
| Design | ★ ★ ★ ★ ★ |
| Easy to install | ★ ★ ★ ★ ★ |

TCP Hardware Black Spike Lug Nuts
Check Rating, Price & Availability
What else do you need to know about this product?
Fitment notes. These black spiked lug nuts will fit wheels that feature exposed M14mm x 1.5 lug nuts with a 60-degree conical seat. It is always a good idea to check the tread pattern (height and size) before placing the order.
Installation tip. In order not to scratch or over tighten your lug nuts, make sure to tighten them only manually. Do not use electrical tools to avoid scratches, damage, etc.
Packaging. If you are ordering these lug nuts as a present, you need to know that the kit is shipped in premium packaging.
Material details. These lug nuts are made of cold forged and heat-treated steel, to ensure dependable durability and strength.
Coating. The special coating of these lug nuts prevents rust, corrosion, chips, and flaking.
Precise manufacturing. TCP Hardware used laser CAD design and precise manufacturing to ensure perfect threads that will match the wheel studs of a vehicle.