MIKKUPPA Red Spike Lug Nuts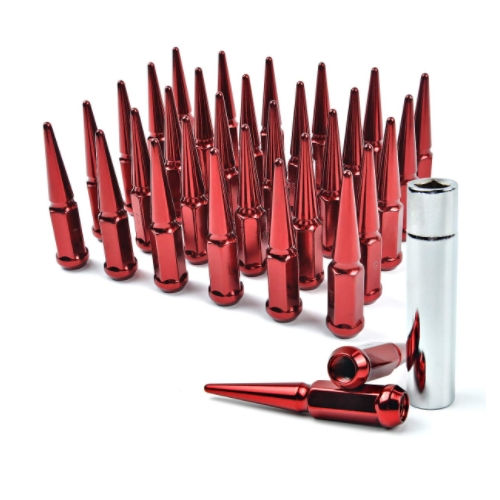 This is a set of 32 lug nuts, so it will perfectly work for vehicles that feature 8 lugs. However, if you have 5 or 6 lugs, it also works. You will have a few more as a spare, and this is also good. These red spike lug nuts will work as a direct replacement for the Chevy Silverado (1995 - 2019), Chevrolet Tahoe, Suburban, Ford F-150, F-250, F-350, and Expedition.
Material
Steel (alloy steel)
Style
Closed-end
Drive system
External hex
Seat type
60 degree conical
Thread pitch
m 14 x 1.5
Finish
chrome-plated
Diameter
0.9''
Warranty
1 year
Total length
4.4''
What's included
32 lug nuts;
1 lug nut socket adapter
MIKKUPA Lug Nuts vs Similar Spike Lugnuts
Looking for spike lug nuts, but are not sure which ones to select? We know, that it is always easier to make a final decision when you can compare a product with several similar ones. So, we have selected a couple of similar red lug nut packages for you to have choice.
Customer Reviews
| | |
| --- | --- |
| Construction | ★ ★ ★ ★ ★ |
| Design | ★ ★ ★ ★ ★ |
| Easy to install | ★ ★ ★ ★ ★ |

MIKKUPPA Red Spike Lug Nuts
Check Rating, Price & Availability
What are the key features of these lug nuts?
One-piece design. This type of construction is valued because these lug nuts are solid, and are likely to last longer, due to the simplicity of construction.
Chrome-plated surface. It is great not only from the aesthetic point of view. Chrome plating makes these red spike lug nuts resistant to oxygen, so they will not corrode or rust with time.
Infrared drying technology. The manufacturer uses infrared drying technology, which means that the paint is integrated with the metal and will not peel.
Strength of heavy-duty steel. These lug nuts are made of high-quality SCM 435 steel (heat-treated) for strength and extra durability.
Multilayer finish. This type of coating ensures perfect chip and scratch resistance. Besides, advanced coating technology is guaranteed to remain shiny for years of service.