J2 Engineering Aluminum Spiked Lug Nuts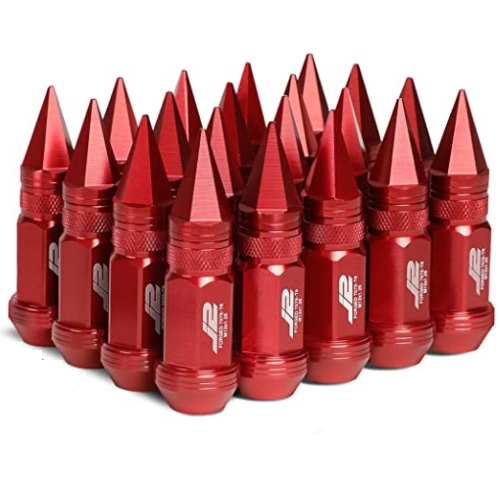 This is a set of 20 aluminum red spiked lug nuts that are made of heavy-duty aluminum. They feature an open or closed-end design and come equipped with a removable cap. So, you can select the design you like and change it when needed by removing or adding caps.
Material
T-06-7075 aluminum
Style
Closed-end + Open end
Drive system
External hex
Diameter (outside)
25 mm
Thread pitch
m 12 x 1.25
Finish
Anodized
Height with cap
80 mm
Construction type
With removable cap
Height without cap
50 mm
What's included
20 lug nuts;
1 lug nut socket adapter
These lug nuts vs similar products
We know, that it may be difficult to find the best red lug nuts for your vehicle, especially if you are looking online. To pick the best product in the right size, you need to see the specs, pros, and cons of every product. So, to help you out, we have selected 2 more sets of red spike lug nuts, so that you could compare them to the ones by J2 Engineering.
Customer Reviews
| | |
| --- | --- |
| Construction | ★ ★ ★ ★ ★ |
| Design | ★ ★ ★ ★ ★ |
| Easy to install | ★ ★ ★ ★ ★ |

J2 Engineering Red Spike Lug Nuts
Check Rating, Price & Availability
What is so special about these lug nuts?
Resistance to corrosion and rust. These red spike lug nuts are made of heavy-duty aircraft-grade T-06-7075 aluminum. This material is resistant to corrosion and will not rust with time. So, you can select these lug nuts if you have a lot of snow and rain in the area you live in.
Anodized finish. Many forums have information and reviews about those poor-quality lug nuts that peel with time. An anodized finish will never fade or peel off. In fact, an anodized finish forms an extra layer of aluminum oxide, that works as a protective layer. It increases durability. So, it is a good idea to pick these red spiked lug nuts if this is a concern for you.
Smart design. These spike lug nuts feature removable caps. And their smart design allows them to easily thread by hand, as the product comes equipped with knurled edges. It ensures grip to thread onto the stud. The construction allows you to use the product as an open or closed-end design.
Dark red color. The color is deep, so you are getting dark red spike lug nuts. Also, this color matches the dark red color that can be seen on many aftermarket alloy wheels. So, you are welcome to consider this product if you have got such wheels.
Easy installation. You can install these lug nuts by yourself without having to pay someone.