OSIAS Red Spike Lug Nuts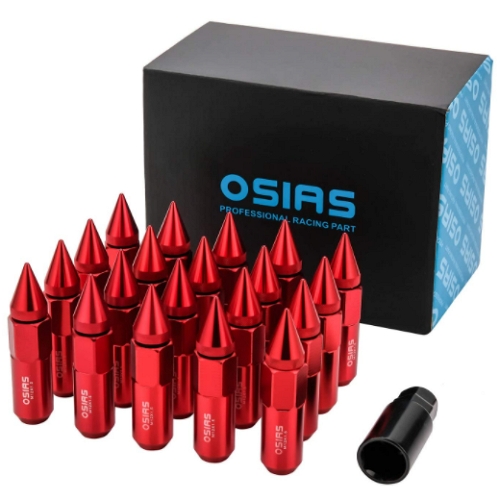 These lug nuts are another great alternative for those, who are looking for an aggressive wheel design. Made of heavy-duty aluminum, these red spike lug nuts are resistant to corrosion and rust. Their protective finish ensures excellent protection against chips.
Material
Heavy-duty aluminum
Style
With Neo-chrome-plated tip
Drive system
External hex
Recommended torque range
50-70 ft/lbs
Thread pitch
m 12 x 1.5
Finish
Metallic
Spike length
30 mm
Warranty
2 years
Total length
90 mm
What's included
20 lug nuts;
1 lug nut socket adapter
OSIAS vs Similar Spike Lug Nuts [m12 x 1.5]
We know, that before purchasing spike lug nuts it is always a great idea to see, what is available on the market and choose from several options. That's why we decided to help you out and compiled a comparison chart that will help you see the differences between these red spiked lugs by OSIAS and other similar products that feature the same characteristics.
Customer Reviews
| | |
| --- | --- |
| Construction | ★ ★ ★ ★ ★ |
| Design | ★ ★ ★ ★ ★ |
| Easy to install | ★ ★ ★ ★ ★ |

OSIAS Red Spike Lug Nuts
Check Rating, Price & Availability
Why buy these spike lug nuts?
High resistance to rust and chips. Aluminum won't corrode due to its nature, so if you live in an area where it rains and snows quite often, aluminum spike lug nuts are a great option for you.
Manual installation is recommended. So, you can easily install your new red spiked lug nuts by yourself without having to hire someone. Note, that if you use a jackhammer to install these lug nuts, you can damage them.
Combination of finishes. Note, that these lug nuts feature a combination of 2 finishes. The base and the lug nut piece feature a metallic finish, while the cap is neo-chrome-plated.
These lug nuts are very lightweight. So, they will keep your wheels balanced. Plus, they are very easy to install, as long as you know how to change a tire (or, how to unscrew a bolt).
2 years of warranty. The manufacturer's warranty covers rust, corrosion, and transportation loss, as well as defects in manufacturing and workmanship.