Wheel Accessories Chrome Spike Lug Nuts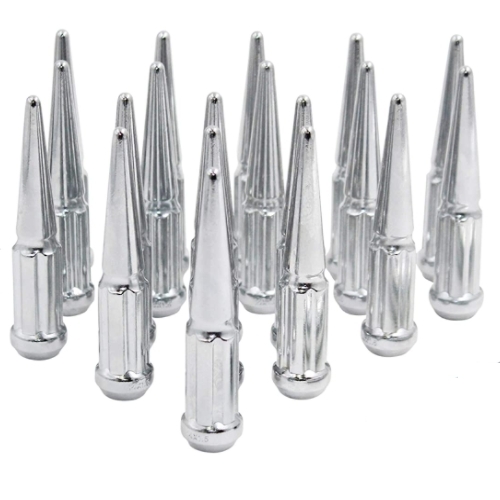 These extended chrome lug nuts are designed to work with the aftermarket wheels. Every set is shipped with a long socket key, that is recommended for installation. These spike lug nuts feature ½ x 20 thread pitch and conical 60-degree seat. The overall length of these lug nuts is 4.4 inches.
Material
Steel alloy (carbon steel)
Style
Closed-end
Drive system
Bulge acorn
Recommended torque range
50-70 ft/lbs
Thread pitch
1/2 x 20
Finish
Chrome-plated
Design
1-piece
Safety
Anti-cracking-off
Total length
4.4''
What's included
20 lug nuts;
1 lug nut key
Customer Reviews
| | |
| --- | --- |
| Construction | ★ ★ ★ ★ ★ |
| Design | ★ ★ ★ ★ ★ |
| Easy to install | ★ ★ ★ ★ ★ |

Wheel Accessories Chrome Spike Lug Nuts
Check Rating, Price & Availability
What else do you need to know about these lug nuts?
One-piece construction. Many car owners prefer 1-piece lug nuts, as they consider them to be way more reliable, than multi-piece designs.
Material specifications. Wheel Accessories Parts manufacture these spiked lug nuts from a special steel alloy. It contains carbon. It is called 40 Chromoly that is heat-treated and cold-forged for extra strength.
Rust and Corrosion prevention. To ensure an adequate level of protection against rust and corrosion, these spike lug nuts feature electrophoresis chrome plating. This feature also works great in terms of chip and scratch resistance. Another interesting fact about chrome finish on Wheel Accessories Parts lug nuts. Double nickel finish surpassing 48-hour salt spray test.