Venum Red Spike Lug Nuts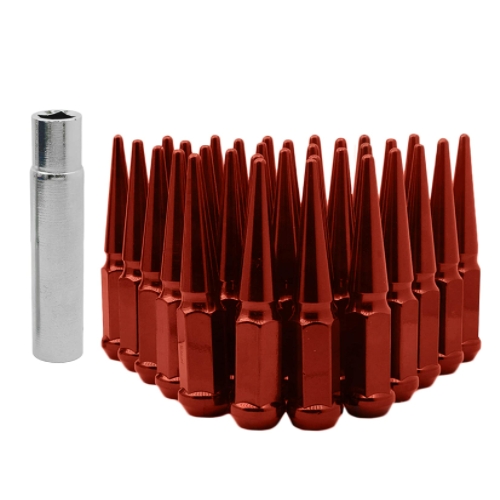 These lug nuts are proudly made in the USA. The manufacturer knows the road conditions in different states, so their product is claimed to be developed by the Americans for the Americans. This product is designed for aftermarket wheels and is compatible with Chevy Silverado and GMC Sierra.
Material
Alloy steel
Style
1-piece construction
Drive system
External hex
Recommended torque range
50-70 ft/lbs
Thread pitch
m 14 x 1.5
Finishv
chrome
Type of wheels
Aftermarket wheels
Country of Origin
USA
Total length
4.5''
What's included
24 lug nuts;
1 security socket key
Customer Reviews
| | |
| --- | --- |
| Construction | ★ ★ ★ ★ ★ |
| Design | ★ ★ ★ ★ ★ |
| Easy to install | ★ ★ ★ ★ ★ |

Venum Red Spike Lug Nuts
Check Rating, Price & Availability
What else do you need to know about this product?
Designed for aftermarket wheels. If you drive a GMC Sierra 1500 or Chevrolet Silverado 1500 with aftermarket wheels, these spike lug nuts are a great fit for your truck.
Locking system. The long socket tool works like a key against thieves and locks the spike lug nuts in place. Note, that you will not be able to install or remove these lug nuts without the socket tool.
One-piece construction. This type of spike lug nut is great for those, who believe, that the fewer pieces the construction has, the more durable it is.
Chrome plated finish. Chrome is applied to metal using galvanized plating technology. So, the finish will not chip and peel, as the chrome plating gets deep into the metal and integrates on top of it.
Proudly made in the USA.